Rana Divyank Chaudhary is Junior Research Fellow at the Department of East Asian Studies, University of Delhi. He has a Masters in Conflict Analysis and Peacebuilding from Jamia Millia Islamia University, New Delhi. His main interests are international relations and strategic studies.
Indian democracy's very public hysterics on communal intolerance rage on. The debates have become a platform for the first time in independent India's history for both opinion leaders and common masses to engage on this issue. Prior to this, India has had communal incidents. This time the country is witnessing a social inquiry on an unprecedented scale. In the wake of Paris's Black Friday attacks, perhaps, the Indian debate may also gain a new perspective.
While common perception portrays Prime Minister Narendra Modi's government as being on the defensive, there is hope and, indeed, signs that he would inherit a more tolerant and resilient country when the dust has settled. It follows that the Prime Minister's grand vision of a materially powerful India with a global standing will gain more traction as the grand narrative of Indian nationalism absorbs a new dimension within its domestic space.
It must begin with Paris. Why should Paris matter? It may be France's 9/11 moment and the Islamic State its Taliban, but it is also a wholly distinct watershed event. On the one hand, the perpetrators were French citizens who grew up in an assimilationist state. France's state practice of prohibitive secularism alienated its immigrants much before socially debated and instituted checks and balances could safeguard against their disenchantment. On the other hand, the French society offered a safe haven to the refugees escaping the violent turmoil in North Africa and Middle East and is emblematic of the values and freedoms long denied to them. So, while there may have been fervent calls to condemn and prevent the killing of non-combatant civilians be it France or Lebanon, these should not serve to avert attention from the larger lessons of Paris for India.
Let us consider the unique circumstances in which India is debating religious intolerance. Statistics categorically show that there has been a marked decrease in incidents of communal violence in India since the election of the National Democratic Alliance (NDA) to power: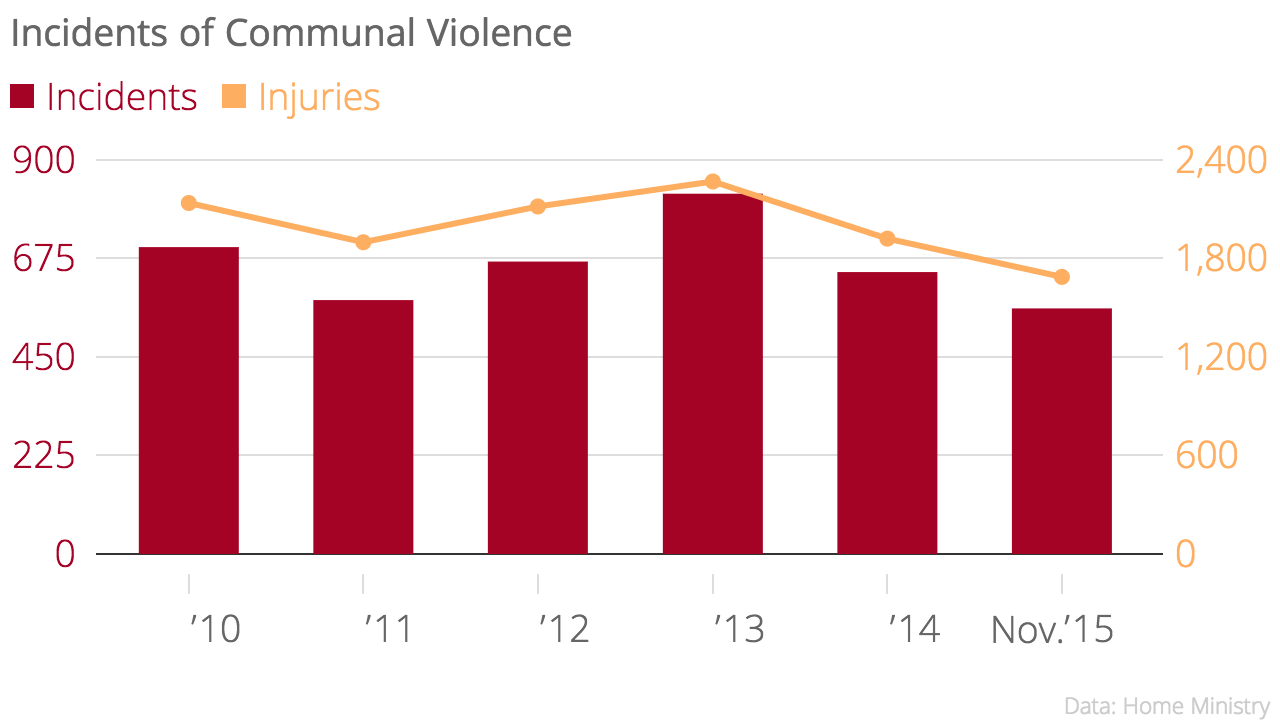 But the Indian public was forewarned of its new prime minister's controversial record on inclusive politics and many sections of it have been pre-emptive in alleging his government's complicity in the seeming deterioration in internal communal harmony.
There is a sharp focus on the government's position on communalism, religious intolerance, and the various civil rights which do not find favour with the religiously minded. Ironically and most significantly, even though Hindu nationalism remains popular among the government's supporters, their rallying cry no longer targets the country's Muslims in the same way as before.
The debate has served to polarize the people not on the expected lines of Hindu majority versus Muslim minority. Instead, the 'divide' is between those who fear that India is growing intolerant of its minorities' beliefs and practices and those who claim India is a safer place for its minorities than ever and the safest place for all sects of Muslims in the world today. In the 1990s, this would have been improbable for the generations that witnessed the destruction of Babri Masjid, Mumbai bomb blasts, Kashmir militancy, and Indo-Pak wars.
Today, however, upholding Mr. Modi's legitimacy and his stewardship necessitates the rejection of Hindu fanaticism by even his most die-hard supporters. Hence, in real terms, this emergent 'divide' may ultimately have a historic import not incomparable to that of post-Partition India's choice to be constitutionally secular and the state's rejection of a single religious identity.
Also, simultaneous to this narrative is a groundswell occurring in the Indian Muslim community which was equally unlikely a decade ago. Faced with the Islamic State's everyday crimes against humanity and Islamic theocracy as a whole becoming indefensible, the Indian Muslim opinion leaders unequivocably dissociate themselves from jihad and condemn religion-sanctioned violence. Some emerging Muslim political leaders urge their constituency to take the path of constitutionalism to fight majoritarian prejudice in the central and state governments.
Lest it goes unnoticed, India's Muslims have gone from being vocally anti-US or anti-Israel to defending the polymorphous culture of Islam, as it evolved and flourishes in India, as a religion of peace. Views on Mr. Modi's image set aside for a moment, it is also a propitious development that the Indian Muslim is now more guarded against political parties which have systematically sought to excite communal passions for personal gains.
Taken together, these two evolved expressions of sentiment and dissent against communal intolerance in both the majority and minority sections of Indian society bear the unmistakable mark of an arduous and yet constant process of secular and democratic nurturing. While managing both may seem akin to walking a tightrope to the present government, these expressions serve to fortify India's bulwarks against the social phenomena which trigger attacks like those in Paris. Muslim immigration and the resulting demographic shifts have long been seen as a threat by Europe's nation states. There are repeated expressions of a strong preference for cultural homogeneity and assimilation as a shield against the uncertainties of religio-cultural diversity.
India, having chosen the protection of diversity as its lodestar, weathers this challenge with a poise which could soon be that much more difficult to find in other democracies.
At the policy level, the 'noise' on intolerance within India and the deeply interstitial conflicts flagged in the Paris attacks are an opportunity for Mr. Modi's government to strengthen the appeal of constitutionalism among India's citizenry. The contradictions between the Constitution and India's socio-political realities and the inequalities which Dr. Ambedkar lamented at the conclusion of the Constituent Assembly debates could not have been more ripe for action.
Whether this causes short-term political inconvenience to the present government should not take away from the prospects it augurs for nation-building in India. Assuming Mr Modi too can sense these undercurrents, his 'silence' would be studied and not suspect.